Need a viral WordPress theme for your upcoming sensational website? Here are the best 15+ free and premium viral WordPress themes for your website.
So you look at websites like Buzzfeed and wonder, what makes these viral websites so infectiously popular? While the content plays a great role in reeling in the users, it's the basic structure and design of their websites that ensures users are hooked. And of course, all those millions of views each month rank up to substantial growth and loads of revenue as well. 
While making an enticing viral website from scratch might seem like a mammoth task, WordPress does make it easier with loads of free and premium viral WordPress themes. If you any more proof of concept, you'll be surprised to know that ViralNova itself has been created using a viral WordPress theme. Here are some of the best viral WordPress themes that you can put to use and create the next great tabloid.
Premium Viral WordPress Themes
Bimber
For an independent owner who has little to no experience in building viral websites, Bimber steps in to make things a whole lot easier. Designed to get you off the ground in less than a day, this theme is equipped with a phenomenal layout that is entirely customizable, multiple ad locations for maximum clicks, and plugins such as Snax for front-end uploading, BuddyPress integration, and MashShare for social media sharing.
BoomBox
Constantly regarded as one of the top-selling viral WordPress themes, BoomBox comes with the power of Viral Content Builder, Viralpress front-end content uploader, and BuddyPress compatibility. The clean layout of the theme offers plenty of real estate for ad banners, comes with a built-in meme creator and beautifully designed badges to improve user interaction with the website, along with QUADS plugin and SEO features built into the core.
SociallyViral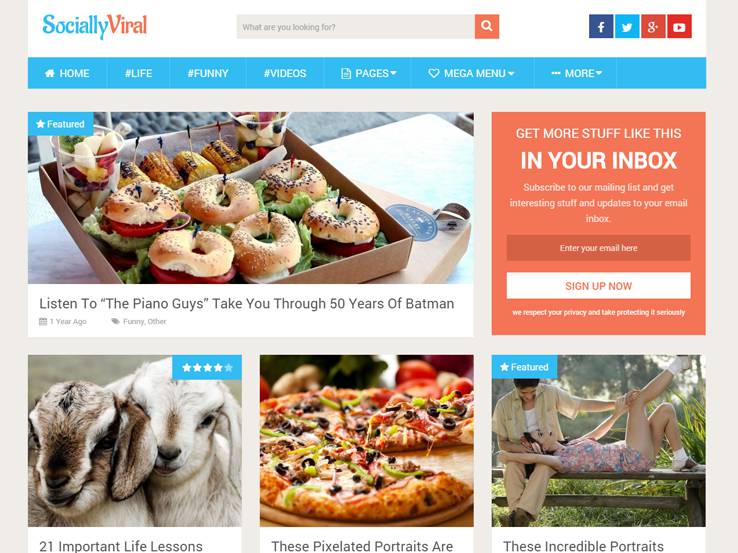 Strikingly similar in design layout to ViralNova, this viral WordPress theme is built for lightning-fast loading time and comes with enough customizations to satisfy your personal taste. Highly optimized for Google AdSense and multiple social plugins to help you generate traffic, SociallyViral comes with features like badges and emojis to keep users engaged, while multi-format support for posts makes the content even more interactive.
Bunchy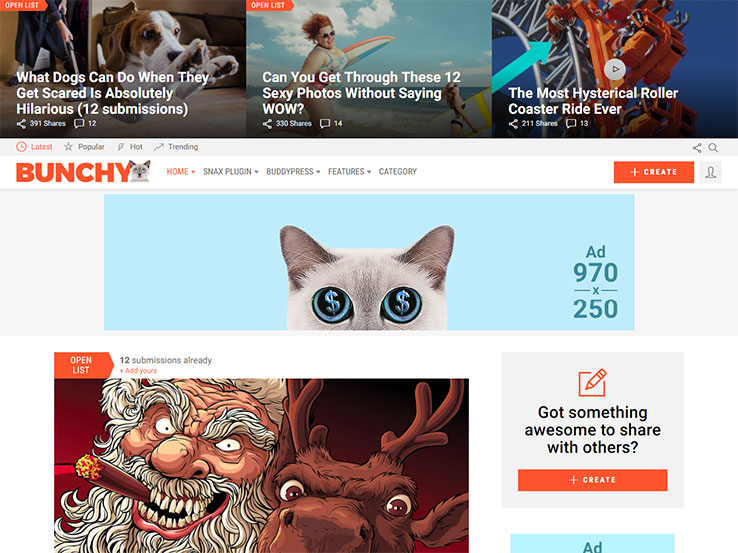 Websites like 9Gag are thriving on the fact that users can upload content right from the front-end, which Bunchy as excels at. This viral WordPress theme packs multiple posts styles such as quizzes, polls, memes, stories, image galleries and more, which paired with the ability to track visitor activity helps you focus on the right content. With multiple designs to choose from, animations, a bunch of widgets and social elements, Bunchy is sure to put you on the map.
BuzzMag
Designed as a magazine WordPress theme that matches the quality aspect of websites like Buzzfeed, BuzzMag comes with several display customization options. The WordPress Customizer integrated into the BuzzMag theme gives you a set of visual controls to personalize the look of your website, while features like social sharing buttons, custom ad banners, and SEO features to help you get more traffic and revenue.
Diginex
Having a competent viral website means a bunch load of content, which is exactly what the Diginex WordPress theme is equipped to handle. You do not have to be a coder to customize this theme in terms of layout, styling and visual effects, while plugins like BuddyPress, WPML, and AdBlock detector will ensure that you're making the most out of your traffic.
Cuckoo
If you find the regular viral WordPress themes to be too one-tones, Cuckoo will definitely feel like a fresh breath of air. Packed with plugins like Visual Composer for easy layout construction, WPML, BuddyPress and more, the responsive layout, heavy customization options, and additional features like notification counter, and MailChimp newsletter integration will keep you on top.
ViralFeed
Taking the theme of viral websites down a traditional path, ViralFeed keeps things simple with a clean layout and design that has been tried and tested. You get to choose from 5 different layouts and can easily customize each of them, while social features like emojis, badges, and social media widgets help you improve engagement, while QUADS plugin for AdSense integration will get you the revenue you need.
ViralWP
Another excellent viral WordPress theme that gives the most exposure to your content, ViralWP is built with the powerful ReduxFramework for a robust foundation. The responsive layout of this theme paired with typography features, MailChimp, Contact Form, unlimited colour options, and multiple ad spots will keep the users flowing in, along with the essential revenue to keep the website running.
Top News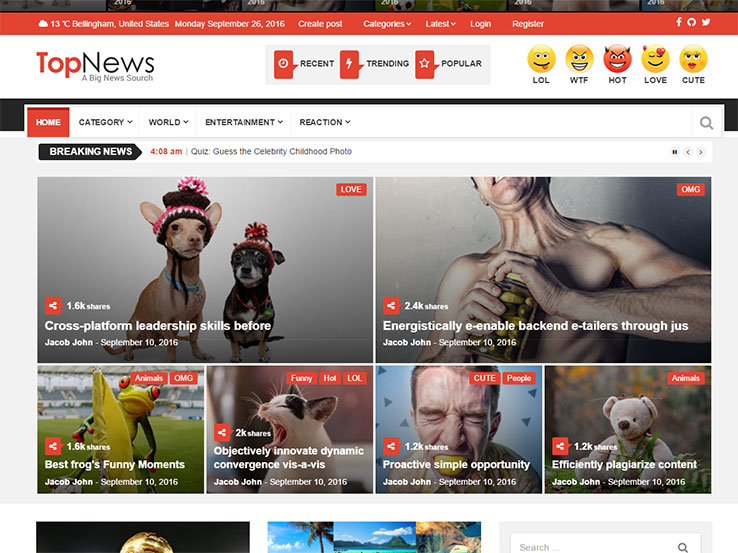 Targeted as a viral website for online magazines and news websites, Top News puts your content on focus with maximum visibility right from the start. The highly responsive theme looks spectacular on any screen size, while multiple homepage demos give you the layout that suits you best. With six different blog layouts, Google Fonts integration, drag and drop page layout builder and much more, Top News has more features than you could imagine.
Furious
Viral websites are all about keeping the social interaction to the maximum, and Furious has all those features built into it. Apart from the user-friendly layout and customizable design, Furious gives enables users to upload content, while the voting system helps users decide what content is worth trending.
Free Viral WordPress Themes
Viral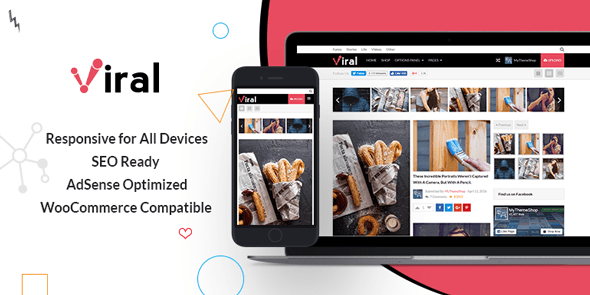 An ideal choice for creating the next big magazine, newspaper, or personal viral website, Viral WordPress theme is a great and sure success way to get started when you're on a budget. The highly responsive layout with multiple ad banners to keep your revenue flowing, you get six different category layouts, five different widgets, and a built-in customizer with live preview to personalize the design with ease.
Fluid Magazine
Whether you're planning to create an online magazine, food blog, a technology website, or anything viral, Fluid Magazine WordPress theme is a great way to get started. Optimized for social media, built with SEO optimizations, multiple ad banners and custom widgets, the responsive layout and customization features on the Fluid Magazine theme will get you started off the easy way.
Numinous
Built with a clean and elegant look to maximize content discovery right from the homepage, Numious will get you off the ground with your next viral website in minutes. Keeping things simple with easily relatable web design, this free viral WordPress theme still manages to incorporate customization features, SEO elements, and widgets, so you get maximum reach with minimum effort.
Magazine Prime
If you are in search of a free viral WordPress theme that is absolutely free but does the job, Magazine Prime is the one to go for. Packed with a default grid layout that perfect for content discovery, this theme comes with theme options to give you the customizability you need, along with a highly responsive design that looks good on any screen size.
Glob
If you aren't ready to invest in a premium viral WordPress theme right now, you probably don't have enough content to get you off to a flying start just yet. In the meantime, a free viral WordPress theme like Glob will get you started off the right foot with its simplified and minimalist design, with ample customization features to support you through the task.
Final Words
We hope our list for the best free and premium viral WordPress themes has helped you to choose the best viral WordPress theme for your future famius and viral website.
Related Posts: