Every developer or even simple internet users knows exactly how incredible fullscreen websites look. The WordPress community is home to some of the best free fullscreen WordPress themes, which not only elevate the visual experience but optimize the functionality of the website as well.
If you have been mesmerized by how beautiful fullscreen websites look and feel, here are some of the most popular and best free fullscreen WordPress themes to download right away.
BigFoot
The Bigfoot WordPress theme deems itself as digitally creative, which makes it the perfect match for publications and advertisement agencies. The clean design comes with plenty of features such as portfolio and photo gallery layouts, custom widgets and fullscreen slides.
Helix
There are very few free fullscreen WordPress themes that portray visual content the way helix does. The minimized menu can be customized as well, while the standard social media icons, custom slider settings and light default background add to the functionality of this theme.
Axis
Axis is yet another fullscreen WordPress theme that compels you to focus on the custom background imagery with its minimalist header style. The ideally designed blog page, custom page templates and taxonomies make Axis an excellent multi-purpose theme.
Fullscreen
The Fullscreen free WordPress theme comes with an empowering design with multiple elements morphed into a single template. From the beautiful scrolling effect on the homepage to the functionality in the form of custom menus, widgets and page templates, Fullscreen is a pleasure to look at.
Black White
The natural combination of black and white is older than time, and the Black-White free fullscreen WordPress theme portrays it distinctively. Perfect for any business portfolio or photography website, it is incorporated with a gallery and blog page for content as well as visual promotion.
Lensa
Just as the name suggests, Lensa free fullscreen WordPress has been created for photography blogs and portfolio websites. The fullscreen slider on the homepage with its intuitive content-box makes visual effects stunning and comes with the widespread dramatic background effects as well.
Mansion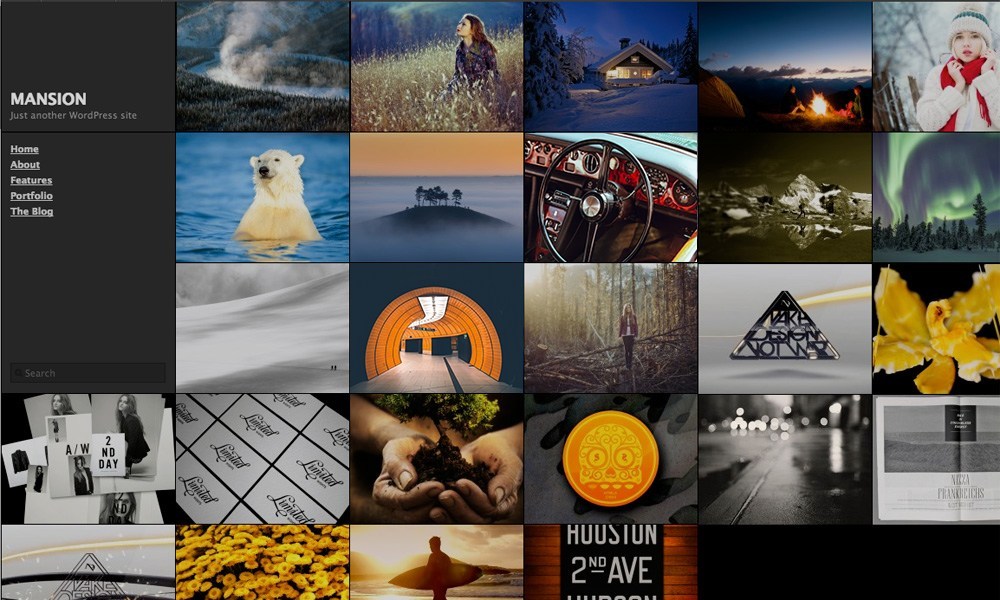 Visual heaven for photography junkies and professionals alike, the mansion free WordPress theme is an eye-catcher. The photo journal entries with thumbnail grids that can be customized add to the style factor of the Mansion theme, which makes it one of the most popular fullscreen WordPress themes.
Pure Photography
Since fullscreen websites provide a stunning visual layout, it isn't a surprise that most of the free fullscreen WordPress themes are created for Photography. Pure Photography is one such marvellous creation which is endeared for its minimalist design and double column full-width pages that make any form of content look attractive.
Wallbase
If your primary focus is embarking a strong impression on the visitors with powerful imagery, Wallbase free fullscreen WordPress theme is what you should go for. With an elegant image slider behind the banner-style header menu, you get custom posts, slide-out menus and much more.
Klean
It is impossible to fall short of creating a mind-blowing website when you integrate the Klean WordPress theme into your website. Built on CSS3 for smooth operation, it comes with custom sidebars, sticky posts, user-friendly navigation and valuable theme customization options.
SKT Full Width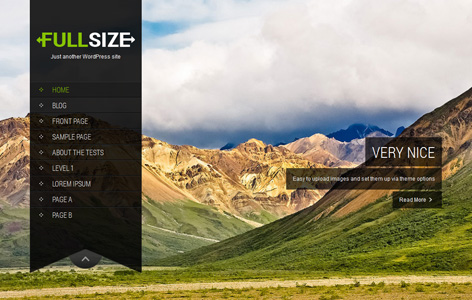 For architectural firms or publications looking to capitalize on a free fullscreen WordPress theme, SKT Full Width is the perfect match. The customizable sliders with content boxes and a transparent menu on the side, your visual content becomes the point of focus for the visitors, increasing your engaging rate significantly.
Final Words
We hope your search for free Fullscreen WordPress Themes has concluded with our recommended WordPress fullscreen themes.
Related Posts: