Want your website to have a Pinterest vibe? Here are 15+ free and premium Pinterest style WordPress themes for your website.
In a world that was already dominated by social media giants like Facebook and Twitter, Pinterest has soared to popularity. While Pinterest surely has a great community and useful content that attracts millions of users, it is the overall design and usability of the website that has given this social media network its well-earned fame. 
If the masonry-style design of Pinterest is what you're looking to bring to your very own website, WordPress is a great platform to build upon. Moreover, there are plenty of free and premium Pinterest style themes that WordPress has to offer, with the style and finish that is crafted for perfection. We have compiled not only the best premium but a bunch of free Pinterest style WordPress themes to help you bring your imagination alive.
Best Premium Pinterest Style WordPress Themes
Pinable
A combination of elements from both Pinterest as well as Behance, Pinable offers a clutter-free look with prime focus on the media and content. Packed with support for post types that include audio, video, images, links and more, Pinable is a safe haven for photographers, bloggers, and the ideal choice to create an online portfolio or a barebone magazine website. Apart from the ravishing looks, this Pinterest WordPress theme is equipped with SEO enhancements, custom widgets, ad management tools, custom page templates and more.
PinThis
Inspired by the masonry design of Pinterest but built with added tweaks that make it even better, PinThis is in a league of its own. Designed to offer a colourful impression and stand out to the users, the handcrafted flat design makes it easy on the eyes, while the back-end optimizations make it striking quick on the web. With a large responsive slider to pull the focus of the users, heavy-duty admin panel and intuitive AdSense integration to bring in the revenue, every penny on this Pinterest style WordPress theme is worth it.
Pinboard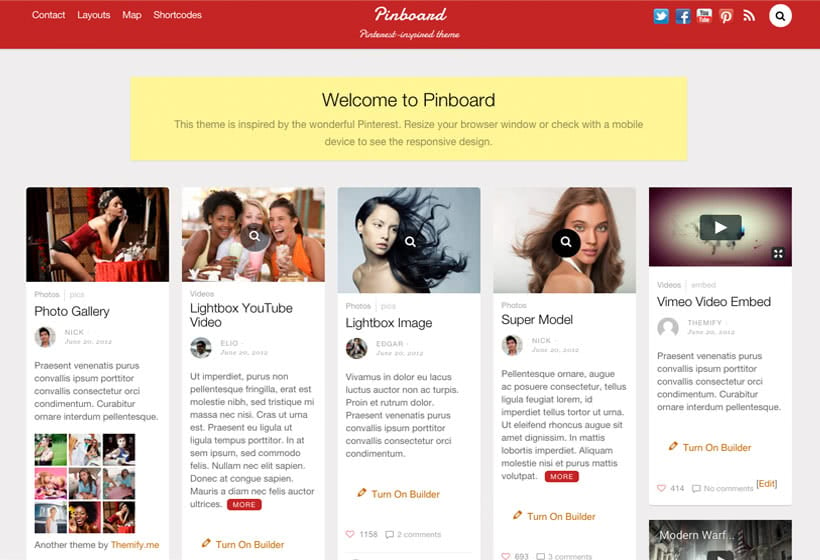 For a hardcore fan who wants nothing but a true iteration of the iconic Pinterest design, Pinboard is the WordPress theme to go for. Built with an auto-stacking layout and infinite scroll to give your users more content than they can keep up with, built-in optimization for mobile devices to increase your traffic, Pinboard increases user interaction with comments sections and dedicated author info, which is the perfect foundation for a socially interactive website.
Super Grid
Taking a minimalist approach to the Pinterest style website design, Super Grid is designed for optimization with a clean HTML5/CSS3 code. To help you capitalize on the massive traffic that mobile users bring in, this grid-style WordPress theme is built with a highly responsive layout that brings out the content no matter the screen size.
Pintores
The active reloading and infinite scrolling feature of Pinterest is something only a few WordPress themes offer naturally, and Pintores is one of them. As the name clearly suggests, this Pinterest inspired theme comes with the ability to highlight content in multiple formats on a crisp and highly responsive design, while features like page builder support, a slew of theme options, optimizations and translation support help Pintores stand out.
Pinstagram
Pinstagram WordPress theme is what you get when Pinterest and Instagram have a lovechild. Taking its inspiration from the grid layout and easily approachable user interface that Pinterest is loved and adored for, Pinstagram offers you the ability to create posts which offer maximum interaction with the user. While maintaining a fairly clean design, the back-end is packed with SEO features, colour themes, built-in icons, Google fonts and a lot more.
Pinfinity
From a fashion blog to creating an excellent content sharing website, Pinfinity is the ideal choice for anyone that wants a Pinterest style WordPress theme. Covering the basics, you get a neat and clean user interface, infinity scrolling and a highly optimized design with responsiveness across multiple screen sizes. Moreover, Pinfinity comes with a bunch of engaging features such as social sharing and the ability to like posts as well.
Pinshop
A Pinterest style WordPress theme can be suited for more than just a social media or blogging website, which is proven by Pinshop. Connecting the simplicity and ease of use that grid-style design offers, this WordPress theme brings in the elements of e-commerce to create one of the most unique online store themes you can find.
Pluto
Pushed forward with thousands of glowing reviews and an entire community behind it, Pluto is a Pinterest style WordPress theme that has evolved to do so much more. Adding a sidebar to the traditional grid design, this theme puts focus on not only the content that you have to offer to the users, but intricately brings in advertisement banners to help you cash in on all your hard work.
1Page
While the skeletal design of 1Page clearly draws resemblance with Pinterest, this multi-purpose WordPress theme can do so much more. Apart from the clean user interface to help users navigate freely and unlimited scrolling to help them keep engaged, elements like the sticky header with a built-in search engine, unlimited sidebars, multiple homepage designs and custom masonry-style designs makes 1Page perfect for any website.
Free Pinterest Style WordPress Themes
Pinbin
Brought to you by the developers at ColorAwesomeness, Pinbin is the first choice for a free Pinterest style WordPress theme you'd want to go for. Maintaining a clean and minimalist design to bring out the grid-style layout and interactive posts, Pinbin is packed with custom menus, backgrounds, bundled theme options, all compressed into a highly responsive design that will look spectacular on any device.
Clippy
This theme is one that you'll find ruling not only the category of free Pinterest WordPress themes but personal blog and photography themes as well. While keeping the design highly responsive for maximum traffic generation, Clippy sticks to the simplified pin-style posts that can be integrated as written posts, gallery, video, quotes and even links.
Gridsby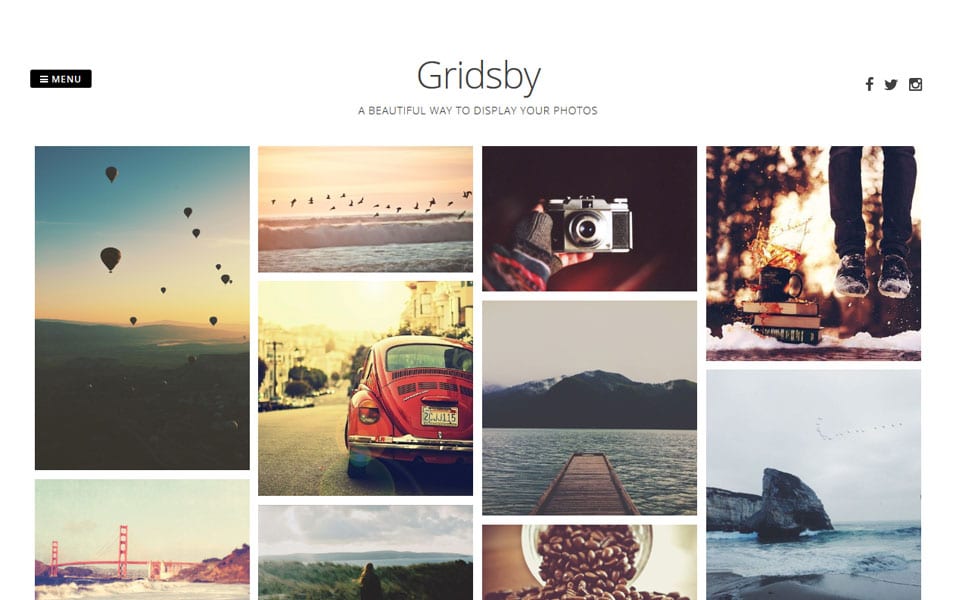 While you can go ahead and get the Pro version (premium) of this theme for maximum usability, the free version of the Gridsby WordPress theme is pretty impressive in itself. Starting off with clean and attractive templates and unlimited colour options to visually personalize your website, the responsive framework, SEO-friendly back-end elements, Google Fonts, and translation-ready Gridsby is a marvel to behold.
Pingraphy
If you don't really need an overpowered Pinterest style WordPress theme packed with more features than you have used for, the barebone Pingraphy theme is just what you need. Covering the basics of offering a grid-style layout to support all kinds of content and highly responsive design for enhanced user-engagement, Pingraphy is best suited for personal blogs and portfolio websites.
PinStrap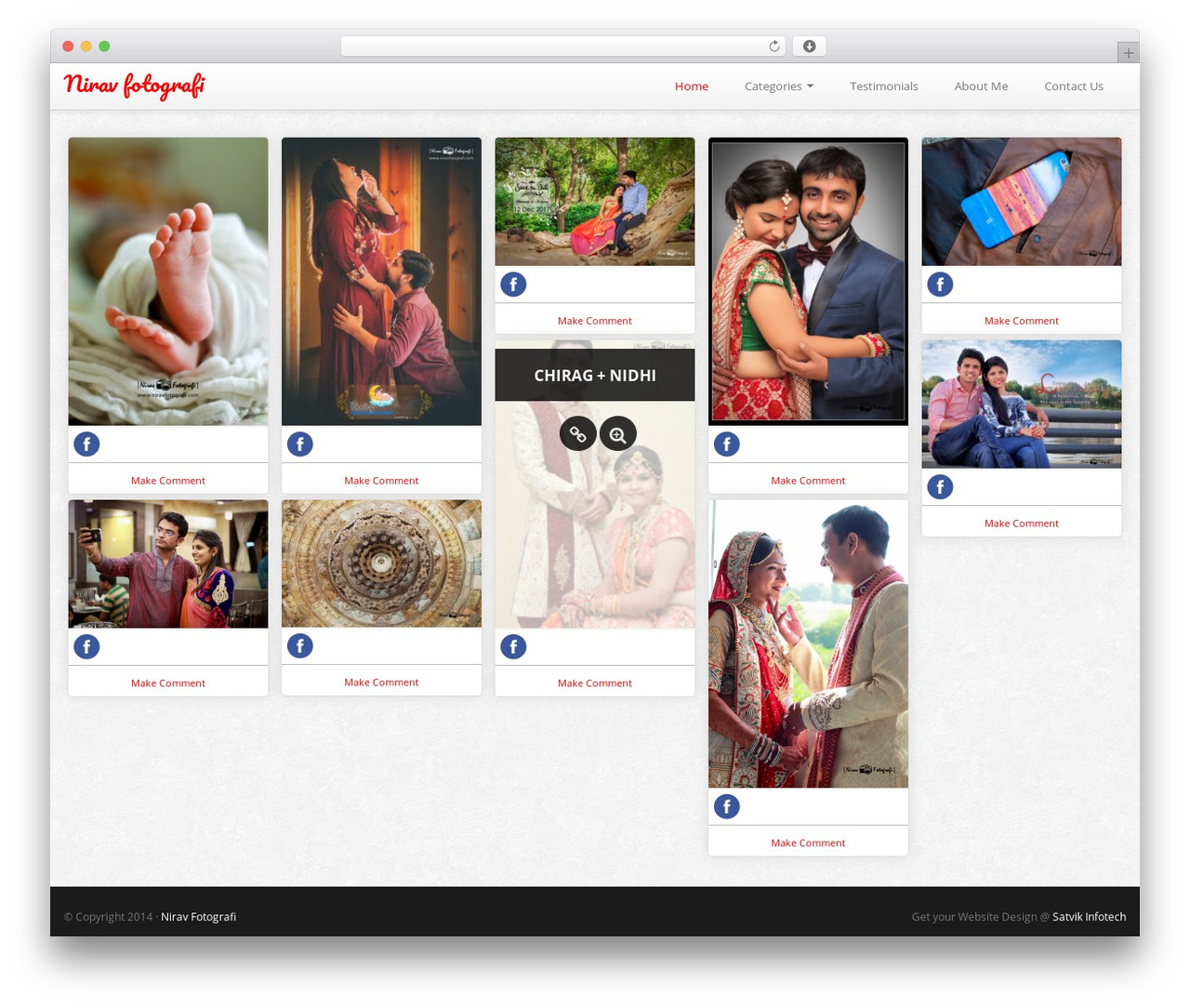 While designed to be a reflection of Pinterest, PinStrap adds the best of another social media giant in the form of its Twitter Bootstrap framework. This awesome free Pinterest style WordPress theme comes with infinity scrolling in its single-page layout, a bag of theme options and custom icons to give you the personalization you deserve.
While created to be the ideal photography blogging and portfolio theme, Photogram borrows its design elements from the iconic grid-style design of Pinterest. While modified to offer a large slider at the header to grab the user's attention, it is followed by a customizable masonry format to share content in multiple formats on a single-page design with infinity scrolling to keep all your artwork in one place.
Related Posts: