It is important to know the differences between Pages vs Posts in WordPress to enhance and ease of work flow on your WordPress website.
Speaking from personal experience, there is no doubt that WordPress is the easiest CMS to get used to. Built essentially for content writers and editors instead of developers, WordPress offers a user interface that doesn't beat around the bush. However, with all the versatile features that WordPress comes with, it wouldn't be unnatural for beginners to be confused between terms such as posts and pages.
While both of these are used to display content on your website, there are certain key differences between pages and posts. Since both of these elements have identical fields on the WordPress dashboard, let's discuss them individually before we go ahead and mark up the distinguishing features between pages and posts.
Pages
Created as the space that holds the cornerstone content of your website, pages are essentially meant to be static in nature. For instance, your homepage content, the about page, privacy policy, and other webpages on your website that aren't edited very often come under the category of WordPress pages.
Unlike your posts, pages aren't defined by time or date, which makes the content on them timelessly useful. There are no social sharing elements allotted to pages as their content is not meant to be shared, unlike your blog posts. Pages can also be given a custom template to change their look from other pages, which are often included with your WordPress theme.
For instance, you can use a gallery page template to showcase your images and videos or the landing page template to get your point across right from the homepage. Since pages are hierarchical by nature, WordPress offers the "Order" feature to help you assign a number value to each page.
Posts
For content-oriented websites such as online publications and personal blogs, posts are where the majority of your writing will be done. Unlike pages, posts are content entries that are listed in reverse chronological order (newest to oldest), along with date and time records.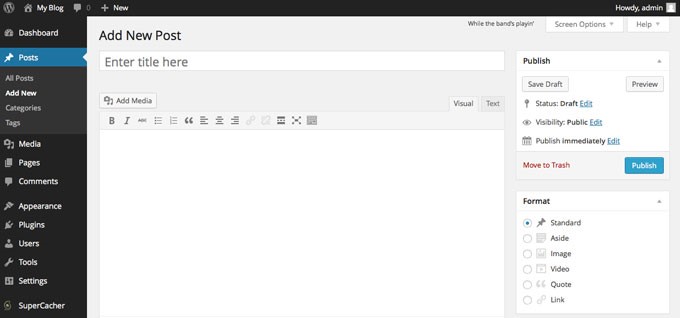 Since older posts become harder to find over time, WordPress includes features like categories and tags to effectively sort and compile posts. Since posts are timely in nature, they are a great tool to garner more traffic through social media sharing and can be syndicated through RSS feeds as well.
Since posts are engaging and encourage conversations, WordPress has included a built-in commenting section which allows the readers to share their thoughts. Although you can include media forms such as videos, image gallery and more into posts, they do not come with custom templates like pages.
Posts Vs Pages
| | |
| --- | --- |
| Posts | Pages |
| Posts are timely and compiled according to their published date and time. | Pages are composed of timeless content. |
| Posts are compatible with social sharing and include comments section for interaction. | Pages are not considered to be social media compatible with no comments section. |
| Posts are single-toned with no custom templates to distinguish between them. | Pages can be applied with custom page templates available with the website theme. |
| Posts can be sorted using features such as categories and tags. | Pages are hierarchical by nature can only be sorted based on their number value. |
The only significant similarity between pages and posts is that you can create as many of them as you want. In terms of their importance relating to search engine optimization (SEO), both pages and posts are crucial to rank well on the web.
While the timeless content of pages is considered more important, the latest timely content of posts which is can be used to lure in more readers will help you in the long run. As a beginner, you should also focus on making sure that both your pages and posts are well-organized to help the search engine rank your content better.
Related Posts: