In the age of interactive YouTubers and Instagram celebrities, the age of Podcasts may seem long gone. You'd be surprised by how popular the old-timers and new podcast channels are even to this day, and creating your podcast station online has become easier than ever. With the best free and premium WordPress podcast plugins available, you can connect to your listeners and engage with your followers at a basic level.
Quite easy to set and use, the best free and premium WordPress podcast plugins offer a dependable solution to get started with custom podcasts in no time. Some of these WordPress podcast plugins are paid, but there are free WordPress podcast plugins included to help you get started without paying a cent.
Best Premium WordPress Podcast Plugins
Libsyn Podcast Plugin
A platform developed especially to empower podcasters, the Libsyn Podcast Plugin is a one-stop solution for all your podcasting needs for WordPress. With multiple pricing plans to choose from, Libsyn offers features such as monthly content storage space, podcast RSS feed, HTML5 media player integration, specialized podcast page, advanced user statistics and several more features.
Smart Podcast Player
Regarded as the best modern podcast player for WordPress, the Smart Podcast Player helps you accelerate traffic, improve downloads and grow your number of subscribers. Compatible with popular podcasting services such as SoundCloud, Libsyn and iTunes, this plugin looks stunning, brings the power of social media for increased traffic, offers plenty of podcast library options and support for multiple devices and browsers.
Simple Podcast Press
The simplest way to migrate your podcasts from popular channels to your very own website, the Simple Podcast Press is a power-packed WordPress plugin. Stated as a "Podcast Toolbox", the Simple Podcast Press plugin integrates iTunes podcast reviews, options to add interactive notes, episodes sidebar widget for simplified navigation, URL shortening tool, one-click social sharing and several other features to bring you at the top of your game.
Buzzsprout Podcasting Plugin
Made for podcasters and not just the experts, the Buzzsprout WordPress plugin is a premium solution for uploading, sharing and tracking podcasts with ease. With astounding features such as play-by-play stats, a user-friendly dashboard to maintain all your podcasts and channels with comfort, support for iTunes, Stitcher and several other directories, Buzzsprout is mobile optimized and comes with multiple pricing plans.
Best Free WordPress Podcast Plugins
PodPress
The PodPress free WordPress podcast plugin has been helping podcasters reach out to their audiences for years. With seamless support for WordPress, PodPress comes with an integrated automatic feed generation, support for a multitude of media files, image preview for video podcasts and several more features.
Blubrry PowerPress Podcasting Plugin
Although a free WordPress podcast plugin, it is surprising to see the number of premium-grade features offered by the Blubrry PowerPress Podcasting Plugin. With integrated support for iTunes, among other media platforms, the audio and video support with HTML5 player, Podcasting SEO options, migration tools and several modification tools to help you personalize your podcasting channel the way you want.
Podcasting Plugin by TSG
Bringing complete podcasting support to WordPress websites, the Podcasting Plugin by TSG helps you gather media from anywhere on the web and add it as an iTunes-based feed. With media player support, ability to add several audios as well as video formats and multiple podcast feed support, this is among the best free WordPress podcast plugins available.
Seriously Simple Podcasting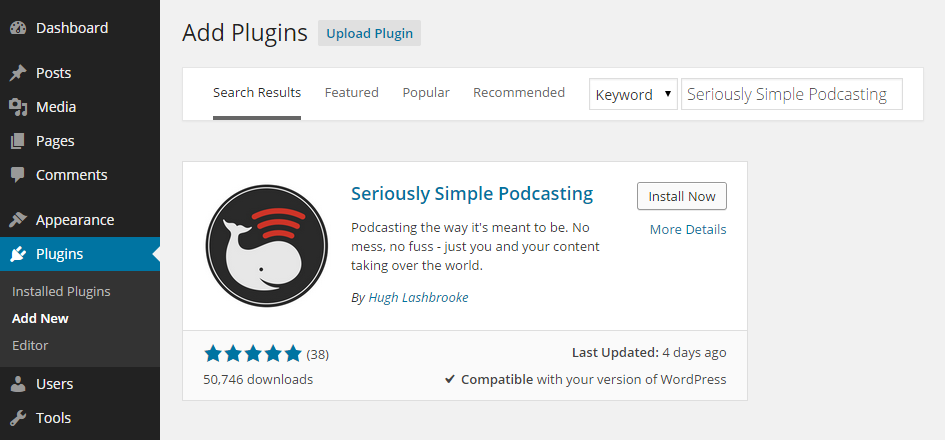 As powerful as it is simple, the Seriously Simple Podcasting free plugin comes with the minimal amount of settings to keep right on track. With the ability to help you create unique RSS feeds, run multiple podcasts from a single website, this plugin is highly configurable, comes with shortcodes and widgets support and integration with iTunes and Stitcher.
Podlove Podcast Publisher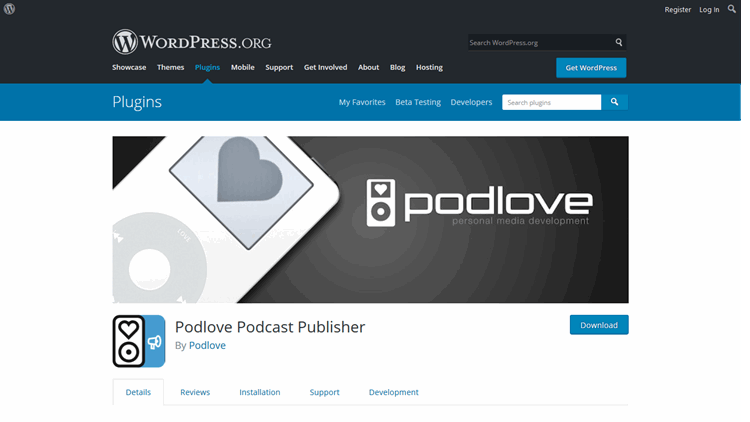 One of the most popular free WordPress podcast plugins out there, the Podlove Podcast Plugin brings you the most cutting edge podcasting experience. With essential attributes such as compatible feeds, multi-format publishing, optimized web player support, flexible design templates and chapter support, this free plugin offers everything you would expect from a premium one.
Cincopa WordPress Media Plugin
Primarily an all-in-one media player for WordPress, the Cincopa plugin comes with integrated support for podcast playlists. With a fully customizable look with preset skins to choose from, Cincopa comes with the ability to download podcasts, free podcast hosting (up to 400MB), podcast preview and a lot more.