Spreading the word for your hotel business through a website is very important to land customers at your hotel. Here are the best free Hotel WordPress themes to attract customers to your hotel using a unique website.
Every business needs to have a cutting edge web appeal to generate a sustainable revenue flow. With one of the best free hotel WordPress themes, you can create an online presence so your prospective customers from all corners of the world can book a stay at your hotel with ease.
If you are looking to skyrocket the revenue charts of your hotel business, you need all the customers you can find. Here are some of the most well designed best free hotel WordPress themes that will elevate your online presence.
Paradise
The classic combination of white and gold will give your hotel website a royal and elegant look. The Paradise WordPress theme has a welcoming homepage that is always an enticing element to mesmerize the customers.
Hotheme
You will check for a price tag twice when you look at the demo version of the Hottheme free hotel WordPress theme, cause that's how good it looks. With three variations in the layout, you get map integration, accommodation features and much more.
Dazzling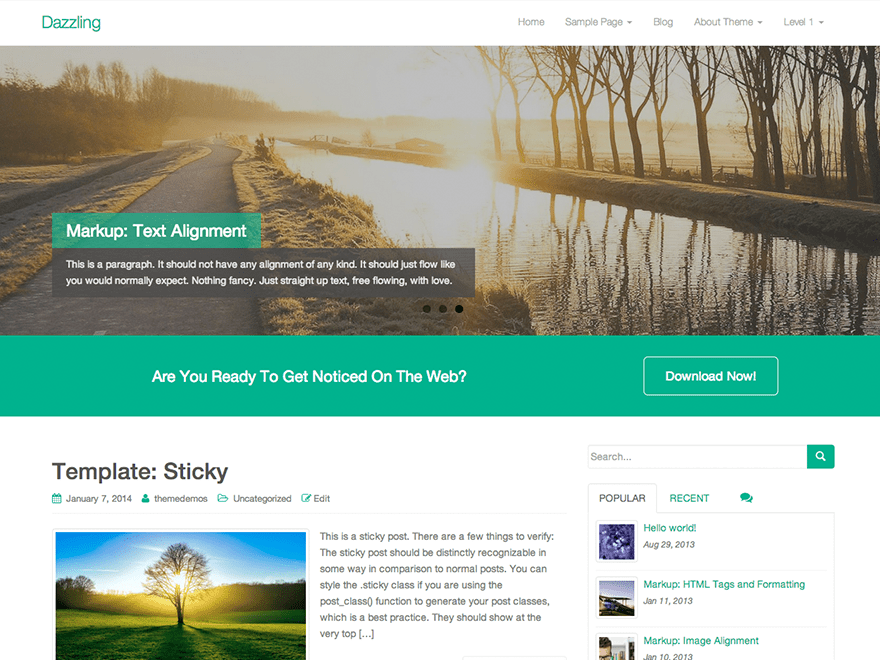 There are very few modern fee hotel WordPress themes that incorporate the flat design as cleanly as Dazzling does. With this theme, you get a refreshing colour palette, multiple widgets, featured slider and loads of other features, you will spend hours tinkering with the customization features of Dazzling theme.
Mountain Creek
Developed on the darker colour tone, Mountain Creek WordPress theme offers the best in a simplistic package. Created ideally for Winter Resorts and Lodging Hotels, this free hotel WordPress theme comes with a customizable slider to feature all your popular specials and offers.
Foodeez Lite
This WordPress theme does look good when used for a classy restaurant, but change the images and content, and you have a fantastic hotel theme at hand. The minimalist design puts focus on the images, so you can make the best impression the very first time your customers reach your website. The parallax scrolling effect accompanied by a responsive design of the Foodeez Lite theme is a show stopper.
Hotel
This WordPress theme is a Child Theme of the famous Omega WordPress theme, which is built with HTML5 for silky-smooth performance. With a wide range of customization options that include header, menu, background and posts, the Hotel free hotel WordPress theme is the perfect fit for any hospitality business.
Waterside
This free hotel WordPress theme comes with a minimalist layout that is best for creating a generalized online presence. If you do not have the budget for online booking system integration, the Waterside WordPress theme can help you reach out to your clients with contact details and help them have a glimpse of your hotel with full-width imagery.
DW Minion
If the boring old hotel design seems too plain and simple, the timeline style design of the DW Minion WordPress theme will surely catch your attention. The responsive design comes with featured images and customizable posts so that you can offer your customers a refreshing outlook of your establishment.
Travel Store
Travel Store free WordPress theme takes hotel publicity on a large scale with a full-width image slider on the homepage, followed by a featured offers slider right under it. The customers get the entire experience right from the homepage, which significantly increases your chances of making the sale.
Tempera
Introduced as a multipurpose WordPress theme, Tempera has all the attributes to make the best hotel website. The smooth slider on the homepage is ideal for promotional material, while the grid style content boxes below help you highlight your specialized services. The responsive design of the Tempera WordPress theme makes it user friendly on all devices.
TravelBlue
TravelBlue free WordPress theme has a somewhat primitive design, which has its own merits, of course. Since the layout is relatively simple, your users won't have any problem navigating through the menus or viewing your special offers. Under the simplicity, TravelBlue free hotel WordPress theme offer features of immense customization, social media integration and full-width imagery to keep your audience impressed.
Final Words
Now that you know the best free hotel WordPress themes, selecting one should not be that difficult for you for your hotel business. We hope you select the best hotel WordPress theme to attract customers to your hotel business.
Related Posts: