The gaming industry is no child's play, which is apparent in the $45 billion stakes it holds in the global financial sector. Creating a gaming blog or website with one of the best free Gaming WordPress themes gives you an opportunity to be a part of this blooming industry. 
An online gaming website is great for creating a gaming blog to share your own love and appreciation for the different genres of gaming. You can also create a stunning review website for games and consoles which can help fellow gamers, know more about the latest and upcoming titles and make a well-informed decision. 
To help you create an impressive gaming blog, gaming tutorial or a games review website, here are some of the most revered and best free gaming WordPress themes available.
Starcraft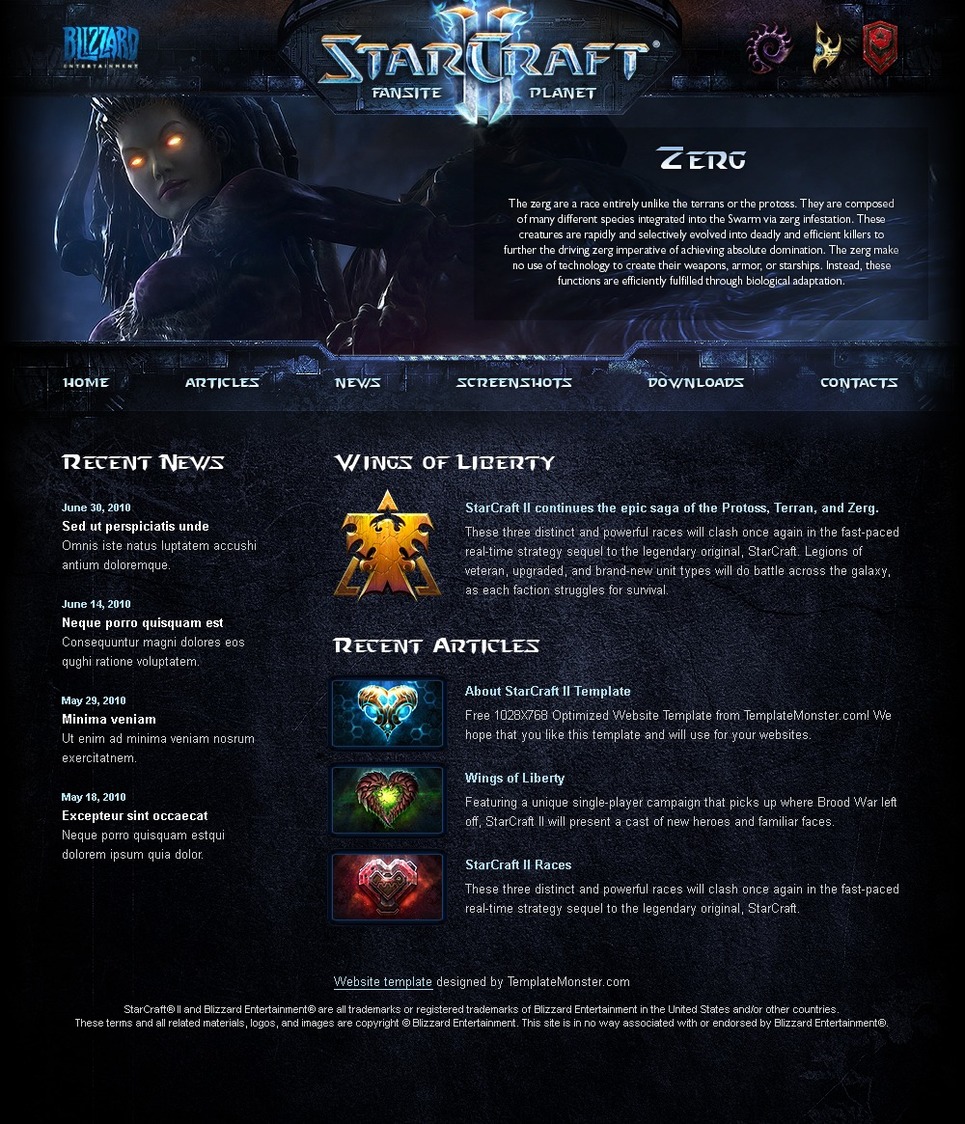 Dedicated to one of the most popular online games ever created, the Starcraft theme is a perfect gaming fansite. Offered as a free gaming WordPress theme by TemplateMosnter, the Starcraft theme has elements such as responsive design and special icons that personalize it.
GameFun
Developed by SMThemes, GameFun represents the addictive experience and sole affection that gamers have for their favorite titles. Perfect for a modern gaming blog or even a gaming magazine, the responsive design is supported by WooCommerce integration that makes monetization easy.
CyberGames
If you are a good old gamer who does it just for fun, and wants to express his love through a gaming blog, CyberGames would be a great choice. This free gaming WordPress theme comes with a professional polished look, but with a simple and sleek user interface, complemented by an image-centric layout.
MH Joystick Lite
One of the most popular gaming themes for WordPress, Joystick Lite by MH Themes is a sight to behold. With a clean layout, custom sidebars, ad and promotion banner space and RTL language support, you can have a stunning gaming website up in no time.
Paraxe
While it does qualify as a multipurpose WordPress theme, what makes Paraxe an incredible gaming theme is its ecstatic design. The Parallax ready layout, retina ready style and sharp fonts make each element of the Paraxe theme stand out.
Games
If you are looking for a WordPress theme that is a seamless combination of minimalist style and sharp design, Games is the one. With custom widgets, JavaScript sliders, drop-down menu and much more, Games theme has the potential to create an outstanding gaming blog.
Publication
If any multipurpose theme would suit your gaming blog or magazine website, it would be Publication. With a stunning homepage image and a widened sidebar with tags, search and about us, the infinite scroll, custom colors, menu and several other features are just the tip of the spear.
HellFire
The basic blood red and charcoal color scheme of the HellFire free gaming WordPress theme is inspired from the Diablo series. Perfect for game blog and tutorial websites, the custom sidebars, widgets, shorcodes integration and dynamic pagination makes this theme a wonderful choice.
Piano Black
This minimalist free gaming WordPress theme has a color pattern that makes it a perfect for any gaming blog and website. With easy to use theme options, custom appearance settings and no sidebars, your viewers will be able to enjoy and immersive experience, which is all that gaming is about after all.
Geekery
Geekery free WordPress theme is among the few premium style themes that bring out the best with their mesmerizing colors and flat design. The basic layout of the theme revolves around media driven elements, which makes it ideal for hosting tutorial game videos, gaming video blogs, trailers and much more.
Canard
Primarily designed as a magazine theme, Canard has all the attributes to make it a powerful gaming magazine or blogging WordPress themes. With content-centric features such as custom post formats, featured content and images, widgetized spaces and social integration can help you lay foundation for a powerful gaming magazine website.
Play
Play free gaming WordPress theme offers an immersive experience to match that of gaming with its custom background. With a clean layout that focuses on the imagery and content, Play comes with a fluidic layout, custom smooth sliders, widgets and much more.
We hope our top 12 picks for free gaming WordPress themes will help you to pick the best WordPress theme for gaming blogging or a website.
Related Posts: