From selling your products to helping you order groceries, the internet has become the largest marketplace of them all. Even brick and mortar businesses are striving to make their presence known online, and the business of real estate is no different.
Whether you're a private realtor who wants to hold their footing in the market, a long-standing real estate firm looking to establish your dominion online, or looking to create a real estate directory that helps locally source sellers and buyers, the best real estate WordPress themes can make it all possible.
Best Premium Real Estate WordPress Themes
Quick Sale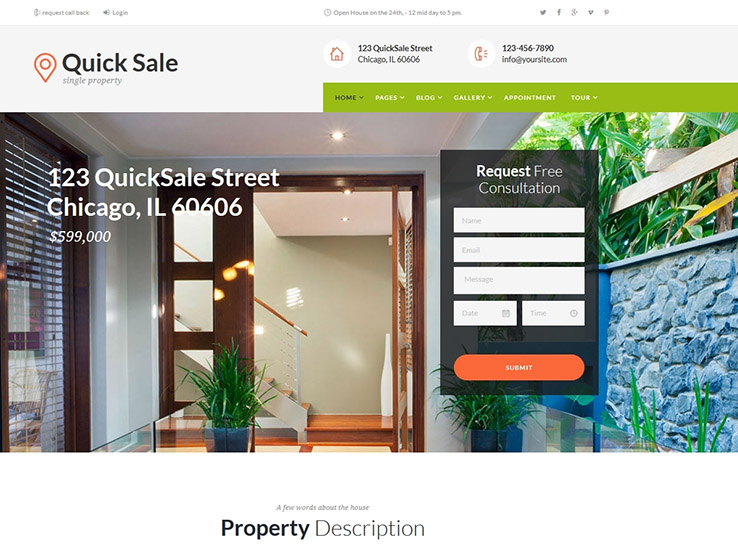 Designed to accommodate realtors and private owners alike, Quick Sale offers an in-depth experience to buying, selling and renting properties online. Equipped with Visual Composer to help you craft the layout of your dreams, features like online booking and WooCommerce integration to help customers make a booking right away, and mobile-friendly design is sure to keep you at the top of the game.
Houzez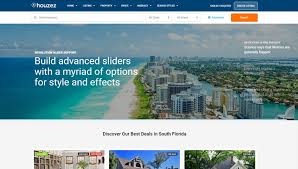 Ideally meant for large-scale real estate agencies to manage and market all of their properties across different locations in a single place, Houzez is the perfect embodiment of directory-based real estate business. Packed with some ecstatic features like Slider Revolution, Parallax backgrounds, Contact Form 7 and many more, the website can be customized for users and agents separately, which makes management simpler than ever.
Landmark
Offering more flexibility than the regular crop of real estate WordPress themes, Landmark starts with six excellently crafted variations that can be customized for directories, single property renting, and agency advertising as well. With features like advanced search to find available locations and front-end submissions, you can set up special listing packages and charge users right from the website itself.
Muza
This real estate WordPress theme is designed to be simple enough to help you get started as a private realtor, and built with enough firepower to carry your business as it grows. With front-end designing tools to help you get the look you desire, Muza comes with a powerful listing engine that allows users to rent and sell their properties on your website directly.
Realtyspace
If you're heading into the real estate WordPress themes territory with close to no coding knowledge at all, Realtyspace is a great choice, to begin with. With premium plugins like Slider Revolution, Visual Composer, and Advanced Custom Fields 5 Pro included right out of the box, building your real estate website becomes much simpler, especially with loads of design variations already set up for you.
Real Places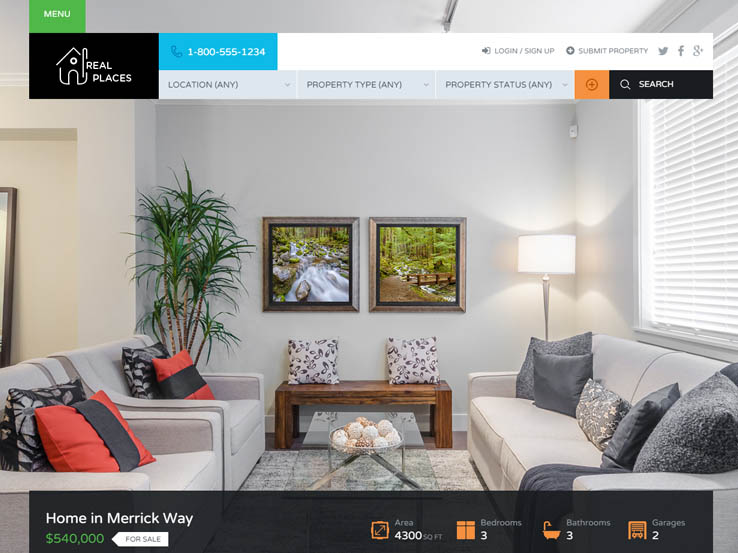 A popular name among premium real estate WordPress themes, Real Places is a package of design variations and highly flexible design that is a childishly easy setup. Built with a drag and drop page builder, advanced search engine integration, Google Maps API, and multiple property layout variations to choose from, there is even support for front-end property submission to help you create a social real estate directory online.
Free Real Estate WordPress Themes
Cabana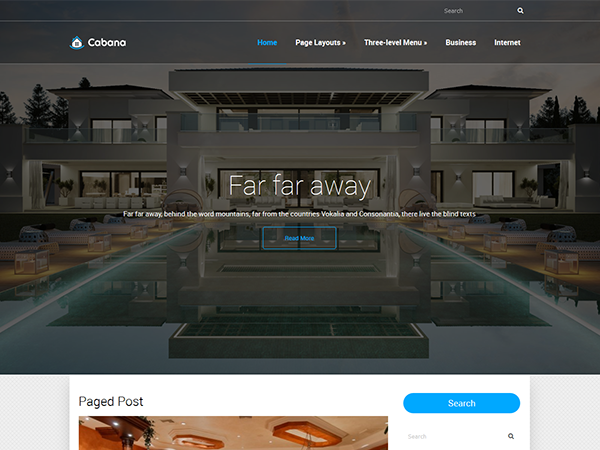 If you're just starting as a realtor and not too invested in the idea of a big and flashy website just yet, Cabana is a great theme to start. Built on their very own SMT Framework, Cabana comes with WooCommerce integration, dynamic content loading and custom sliders, Google Maps integration, and custom widgets to give you a sense of personalization as you create your real estate website.
Real Estate Lite
Ideal for a startup realtor or a real estate agency, Realm Estate Lite is a sweet and simple solution to bringing small businesses on the map. This free real estate WordPress theme has all the basics covered with a highly responsive design, beautifully constructed homepage with services section and plenty of customizations while giving you the ability to, later on, upgrade to the Pro version for advanced real estate buying and selling tools.
Integral
If you aren't on the lookout for a full-fledged real estate WordPress themes with advanced features, a one-page theme might be the one for you. Integral is among those one-page business themes that focus on helping you establish your presence online either as an independent realtor or a firm as a whole with a minimalist modern design and no fancy bell and whistles. Built on Bootstrap for effortless performance and essential Contact Form 7 plugin to connect with your clients, Integral is your first step to online success.
RealtySpace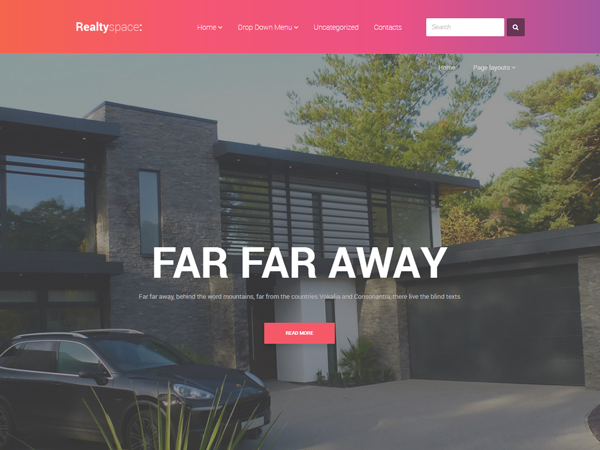 Another cool creation by SMThemes, RealtySpace is a free real estate WordPress theme that is built to impress from top to bottom. Perfect for creating your realtor profile online, this theme comes with a swift and smooth interface, responsive layout, and integration for different types of posts, along with social media integration and eCommerce support to help you monetize right from the website.
Eleganto
Although Eleganto is essentially meant to be a multipurpose WordPress theme, it just seems too good not to be used for creating a real estate website online. Another one-page design sensation, animation effects, parallax scrolling and customizable contact forms will help you not only draw in prospective clients but also establish a point of contact with them right away.
Want to read more and explore other fantastic WordPress Themes?
20+ Best WordPress Themes for Artists
18+ Best WordPress Themes for Startups