A child is born every 4.3 seconds on earth, which not only keeps our population blooming, but also provides plentiful fodder for the entire education system. Since the early years of a child are the most critical for its development, parents from across the financial spectrum look for the best kindergartens for their little ones. Here are the Best Kindergarten WordPress Themes
Apart from ensuring a safe and cultivating environment, modern Kindergarten also has to keep up with the contemporary means of advertising their best aspects. This is why you'll find a fair amount of popularity engaging for the best Kindergarten WordPress themes.
Whether you want to showcase your curriculum, the environment where the little learners will begin their education, or an online platform for enrolment, you'll find the best Kindergarten WordPress themes worthy of your taste.
Best Premium Kindergarten WordPress Themes
Kid Quest
Teaching the power of imagination is what Kindergarten is all about, so why not bring the same creativity to your website? Kid Quest is built to give your early education centre an online presence with plenty of demo content to take inspiration from, a visual builder to provide you with detailed, yet simplified page building options, along with shortcodes, widgets and plugins to provide you with all the functionality you would need.
Kids
This Kindergarten WordPress theme is ideal for preschool and daycare institutions that want their website to be a reflection of their establishments. Packed with vibrant colours of the rainbow from top to bottom, you get a suite of layouts to choose from, Content Composer for drag & drop execution and more than 100 shortcodes to drop it functionality anywhere on the website.
Kids Play
With dozens of little kids to manage every day, you don't have the time to build a premium website, which is why Kids Play takes care of all the details for you. It all starts with a visual layout builder that helps you map out the website along with the demo content that is packed along with the theme. In contrast, your portfolio and content are showcased in grand style with the Slider Revolution and Layers Slider premium plugins.
Kindergarten
The creators may not have seemed too imaginative with the straightforward name of the theme, but rest assured that it comes with more features than you need. Designed with care to feel vibrant and appealing, Kindergarten WordPress theme is easy to manage with the Live Customizer, structured to rank well on search engines, and comes with a responsive design that looks good on any screen size.
Kids Club
While being colourful is one of the first things that a Kindergarten website needs to be, they can seem to start looking quite generic. This is where Kids Club swoops in like a fresh breath of air with five different homepage styles, multiple sample pages to keep your look unique, and exclusive sections that are fun for the parents and children alike.
Nashville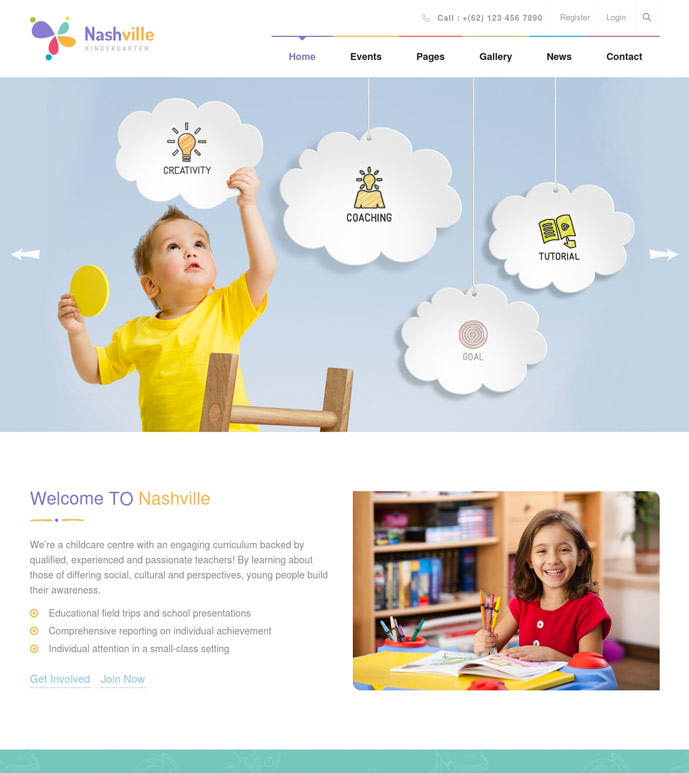 A single look at your website built with Nashville WordPress theme is to light up the eyes of parents looking for the best Kindergarten for their kid. First off, Visual Composer comes in the package, which takes the simplicity of drag & drops page building to a new level, Slider Revolution helps you bring out your best media in style, while customizations and typography add the finishes touches every decent website needs.
Smarty
A multi-purpose WordPress theme that is dedicated to the cause of education websites, Smarty is especially crafty in creating a modern and unique Kindergarten school website. With multiple demos to get you started, you get four pre-set colour schemes to choose from, special profiles and classes for teachers, built-in timetable, events calendar with donation support, WooCommerce integration for online store and more than 18 custom pages for any and every occasion.
Little People
Unlike most ultra-premium themes that are essentially skinned-up education themes, Little People is built from its foundation to be nothing but the perfect Kindergarten WordPress theme. With a slew of premium plugins like Visual Composer, Slider Revolution, and Essential Grid, you get your money's worth right away. In contrast, the free plugins for timetable, profiles, events calendar, testimonials and more are just the icing on the cake.
Kiddz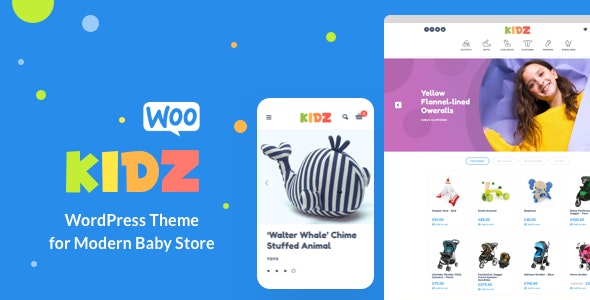 This theme may be dedicated to kids, but it built with all the grown-up elements like HTML5 and CSS3 integration. Giving your preschool and early education website the leading edge, Kiddz comes with a plethora of customization options, highly customizable colour and background images, advanced typography options, and competent shortcode generator and so much more.
Free Kindergarten WordPress Themes
Preschool and Kindergarten
Depending on your region and target audience, having a premium website might be more discouraging to parents, which is why basic themes like Preschool and Kindergarten exist. Built on a strong framework with a highly responsive design, you get slider options, high level of customization, Call to Action Button, SEO features, and even social media integration to put you on the map.
KidsGeek
A beauty brought to you free of charge by the talented team at SMThemes, KidsGeek is designed to be the modern equivalent of a children education website. Built on the robust SMT Framework 2.0 for high stability, you get widespread support for Ecwid and WooCommerce plugin for the online store. At the same time, customization features for design and layout, widgets, shortcodes, and SEO-friendly options keep it on the top.
ButterBelly
Always intended to be a website for kids, ButterBelly is a free Kindergarten WordPress theme that rises to occasion when you're on a low budget. Securing a powerful framework with a full-width layout that gives the premium theme a run for their money, there's no fancy demo content, but you still get plenty of customization options to craft the website inch-by-inch with your spirit.
Check out more here :
17+ Best WordPress Themes for Freelancers
Free Gaming WordPress Themes-Top 12
WordPress 101 -WordPress.com Vs WordPress.org