While we may barely remember the days when Google didn't have all the answers we seek, there was still a large amount of traffic around Question & Answer websites. While Q&A has now become more about socializing and sharing thoughts, the popularity of the best Question & Answer WordPress themes isn't dwindling by any means.
The massive popularity of platforms such as Quora shows that human-to-human online Q&A is far from being dead. Whether you want to create the next great Question & Answer platform, or looking to add one to support your business or product, there's an excellent collection of the best Question & Answer WordPress themes for you to choose.
Best Premium Question & Answer WordPress Themes
QAEngine
Any community site regardless of its genre, does not need to be too flashy or packed with animation effects, which is carefully adhered by QAEngine. Rather than employing useless aesthetics, QAEngine gets to the core of your Q&A platform with a responsive and neat user interface, special badges and points system to encourage users, intuitive polls and natural user interactions to make sure your visitors become frequent comers.
HelpGuru
An ideal choice not just for Q&A but knowledge base websites as well, HelpGuru Question & Answer WordPress theme is just what you need for a self-serving marvel. Paying special attention to detail in regard to the content, you get built-in features like live Ajax search, article feedback, content order, SEO optimization and multi-language support across the entire website.
AskIt
The talented team at Elegant Themes has created AskIt to help up and coming bloggers and newcomers to turn their websites into a Q&A forum, or build one from scratch with ease. Available in multiple colour codes and design customization features to get that personal touch, you get complete localization support right out of the box, along with timely updates and a bunch of shortcodes to help you evolve your website with time.
Ask Me
Positively among the most modern and hip-looking Question & Answer WordPress themes out there, Ask Me offers so much more than just a class act. Packed with the basics like mobile responsiveness support, RTL integration, advertising system to get the money flowing and customization options with pre-made icons, you also get PayPal integration to create "pay to ask" questions and generate a whole new stream of revenue.
InfoCenter
Ideal for information centres, 24/7 self-service support websites, and FAQ portals, InfoCenter is built to help you with utmost customer/visitor engagement. While keeping the user interface bare-bone and as simple as possible, you get a bunch of useful additions in the form of separate forum pages, Ajax voting system, user point system, and SEO support to get your website recognized on the World Wide Web sooner.
Answers
Built to compete with the like of Yahoo! Answers, Stack Overflow and Quora, Answers WordPress theme is all you will ever need. Built with a hands-on approach with one-click installation and quick customization options to turn this WordPress Question & Answer theme into your website, you get front-end question submissions, paid answers feature, voting and "best answer" selection, along with translation support for answers and more.
KnowAll
Whether you're looking for a great Q&A theme or a full-fledged customer support forum for your product or services, KnowAll is just the theme for you. Built with SEO and page optimization in mind, you get live customization options to reflect your business and brand on the theme, along with high-end analytics and custom feedback support built right into the core.
Sentric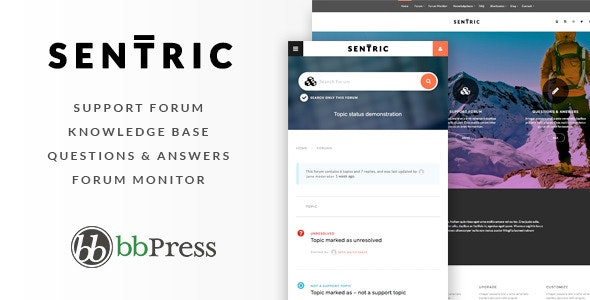 A classic Question & Answer website does not have to be flashy, but it doesn't hurt to have something as attractive as Sentric WordPress theme on your side. Built to support knowledge base, forum, and support websites, you get complete bbPress integration to create an online community of your own, along with unique features like Forum Monitor, Quick Summary, Special Forum Search, FAQ sections and a whole lot more.
KnowHow
Another Question & Answer WordPress theme that does not pay much heed to the looks, KnowHow is clean and simple with a focus on the primary features. Built with Ajax live search to get your answers instantly, KnowHow comes with a detail-oriented FAQ section included for all pages, SEO optimization, translation support, and so much more.
Best Free Question & Answer WordPress Themes
Quest
While designated as a multi-purpose theme, what makes Quest an excellent choice for Q&A and support desk website is its customizability. Included with a free page builder to help you craft the perfect layout, you get WooCommerce integration, bbPress plugin support to create an online community for your website, and the power of Bootstrap framework to keep you on the top.
Ward
Built with the combination of power and efficiency with Bootstrap and HTML5 framework, Ward is the best you can do when it comes to free Question & Answer WordPress themes. Full integration with BuddyPress as well as bbPress gets you started on creating your very own user-base, while multimedia support, jQuery carousel for galleries with JetPack plugin integration help you turn visitors into fans.
Want to try some more cool WordPress Themes?
16+ Best Bakery and Coffee Shop WordPress Themes
15+ Best WordPress Themes for RTL Websites