Are you tired of your internet service provider blocking all of your favorite websites? Its time you broke the internet barriers with this guide to install Opera free VPN right now.
In a world where Google has dominated the world of search engines and brought the same to its Chrome web browser, surviving has been tough on web browsers. While giants like Netscape and Apple's Safari have struggled to stay relevant, the Opera browser has remained consistent through the ages by being flexible to its very core. 
From offering a completely integrated mobile browsing experience to creating a data-friendly version of their browser – Opera has always had something to offer to mobile users. With the Opera 40 stable version of the browser, the company has brought in a highly acclaimed Opera free VPN as well.
If you're not as tech-savvy as you'd hope to be, us getting all excited about Opera free VPN may seem a bit absurd. Here's why you should be using Opera free VPN right now and be as enthusiastic as we are about it:
Reasons you should Install Opera Free VPN
While releasing the free VPN service for iOS devices first, the free VPN service from Opera has finally caught up with Android devices. While VPN services aren't a rarity, finding a free and unlimited VPN service from a reputed brand in the tech industry like Opera is undoubtedly a beautiful sight to behold.
Access to all restricted content
When your ISP or the government decides to block online content, it's not just the malicious websites or websites with inappropriate content that get blocked. Moreover, public networks like your university or college Wi-Fi network restricts content even from services like Pandora and Spotify (which means no music to listen to on campus grounds).
Opera free VPN services enable you to gain access to the internet the way it is intended to, with no bars holding you back. Whether it is your quest to watch Netflix USA from your hometown in India, or you wish to gain access to regular websites that your oppressive national cyber laws have restricted, Opera's free and unlimited service is here for you.
Say goodbye to pesky adverts
For someone who knows enough about VPN services already may know that Opera isn't the first one to provide a free VPN service on the internet. Even if you sift through the internet for VPN services that don't restrict your usage based on megabytes, the number of free VPN services is limited to a few.
This is where Opera swoops in to save the day with its state of the art VPN services powered by SurfEasy, which keeps the ad-tracking features of web browsers at bay. Rather than bothering you with products from Amazon or ad banners on a flight booking you recently looked up, Opera free VPN keeps your browsing experience private.
How to get Opera Free VPN on Desktop
To begin using the Opera free VPN on your computer and bypass the geographical and ISP restrictions, you don't need to install a third-party service. You can start using the unlimited VPN right from the Opera browser, or download the latest version using the link below.
Download Opera Brower for Desktop
After updating your Opera web browser or installing the latest version of the application, open it to enable the VPN service. Head over to the Privacy->Security tab on your Windows PC and Preferences->Privacy & Security on your Mac to explore the VPN settings.
Right on top of the screen page, you will be able to see the VPN option with some points on what the feature is useful for. Click on the empty checkbox right next to "Enable VPN," and you are all set to go ahead and unleash your browsing experience.
As seen in the picture below, you will be able to view the VPN button right next to the browser URL bar.
Voila! You now have the powerful and unlimited Opera free VPN service enabled on your browser at your disposal. Apart from choosing the virtual location that you want to select for browsing anonymously, Opera also gives you direct insight on how much data has been transferred this month with the browser.
How to get Opera free VPN on Android and iOS
The process of installing Opera free VPN on Android and iOS is as simple as clicking a button and opening the app. Unlike the Opera desktop version, you cannot have the VPN add-on as an extension but needs to be added to the mobile device with the official Opera Free VPN app.
Download Opera Free VPN for Android
Download Opera Free VPN for iOS
Once you have the app installed on your respective smartphone, open it up and go through the beginner tutorial to find out more about the app. Hit the "Connect" button on the main screen, after which you will have to grant the app VPN permission.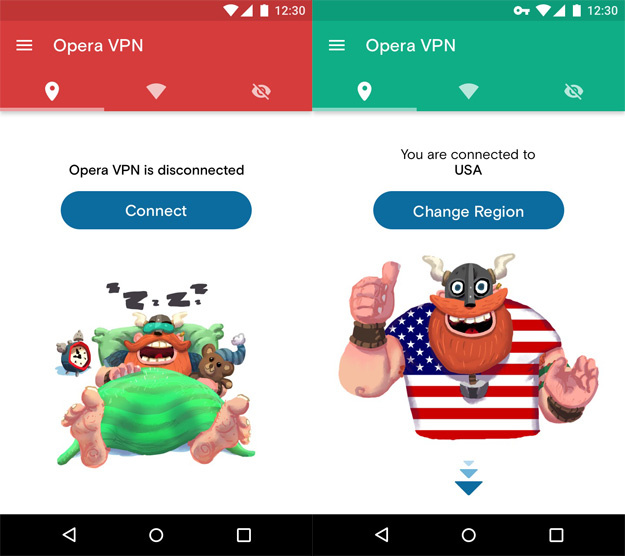 Once you do that, the device will be connected to the best server based on your region within a minute. However, you can tap on "Change Region" and select the country that you want to browse virtually from (Canada, Germany, Netherlands, Singapore, and the United States).
The app comes with a "Guardian" feature that blocks ad trackers automatically. Although it is activated by default, you can choose to deactivate it (but why would you?).
So what are your thoughts after using the fantastic Opera Free VPN service on your desktop and mobile device? Do you love it as much as millions of other users, or would you rather depend on the more premium choices out there? Do let us know in the comments below.