Need to watch movies and TV shows for free legally? Here are the top 7 Android apps to watch movies and TV shows legally for free.
In this day and age of entertainment on the rise, the world has cut the cord completely with online streaming services with apps. From starting with Amazon Prime Video, Netflix, Hulu and dozens more, there is no shortage of premium service offerings to enjoy the latest and greatest in media consumption. 
For all the people who are looking out for freebies out there by ethical ways to private entertainment, Android offers some hope. We have searched the Google Play Store to find worthy apps that offer hours of free movies and series. The best thing is that not only these apps and services completely are free, but 100% legal as well. 
Crackle is so renowned in the movies and series business that Sony Entertainment went ahead and bought it. Crackle is one of the few select premium apps that offers the best selection of Hollywood movies and TV shows. The roster of content includes Emmy-nominated TV shows and some of the all-time classic comedies; Crackle will get you hours of entertainment without spending a cent.
Based on the same principle that Google runs YouTube, Viewster is a European company that is bringing ad-based content to millions of viewers. Albeit the app does not have a library of content as large as the premium names in the business, you'll still find a bunch of old classics and original series, including a growing collection of anime content.
Kodi has been the absolute favourite for the freeloaders around the world since the early 2000s. While there are some Kodi add-ons that promote pirated movies and content, there are thousands of free and 100% legit Kodi add-ons that bring you to live radio, sports TV shows, hundreds of documentaries and a whole lot more.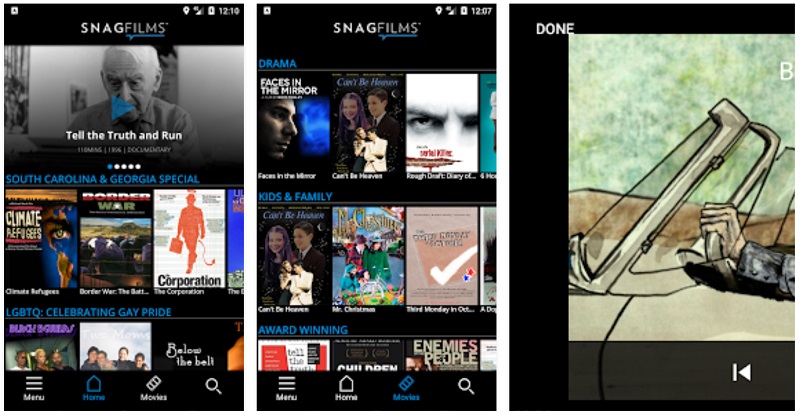 Another premium quality service that would even give the paid ones a run for their money, SnagFilms is a paradise for indie content fans. With a massive collection of non-conventional and foreign films as well, SnagFilms also holds a bunch of cult horror classics, silent films and an entire section dedicated to family and kid-friendly shows.
An old-timer in the free media business, Popcornflix offers a small, but a worthy quality collection of movies ranging not just from Hollywood, but movies from all around the world. With around 700 movie titles in its collection and new content is added almost daily, with genres like comedy and drama, to horror and action thrillers.
Tubi TV is one of the newer apps to join the list, which makes the Tubi TVworhtwhile; it has a great interface that makes entertainment easier to access and consume. When it comes to the insides, you will find all sorts of content on the app – from classic action pact movies like the Death Race 2000 to classic Korean dramas. Coming down to the controls, the app allows you to fiddle around to set the streaming quality to low, so you never miss out on entertainment even with a poor internet network connection.
Rather than housing just the independent content available online, Flipps has partnered with mainstream services like CBS, Fusion, Rhapsody, Global Force Wrestling and many others to bring you an all-in-one entertainment platform. With over 100 channels to go through, Flipps is the closest you'll ever come to cord-free cable TV that doesn't charge you a dime.
Related Posts: