For iPhone and iPad lovers, there's a new powerful software for brainstormers and mind mappers, presenting the best free Mind Mapping software- MindNode.
Are you looking for a definitive MindNode review to help you find your next best productivity companion app? Your brain is the central force behind all the brilliant ideas that you come up with. However, compartmentalizing these bright ideas and "mapping" them requires some extra bit of help.
Fortunately, there are plenty of mind mapping tools and brainstorming apps available across all platforms, including the iPad. MindNode has become a popular name among mind mapping apps across Mac OS X and iOS platforms. Boasting a simple user interface and reasonable price, MindNode has crawled up to the top spot among the best free mind mapping software for iPad. 
What does the Best Free Mind Mapping Software – MindNode exactly do?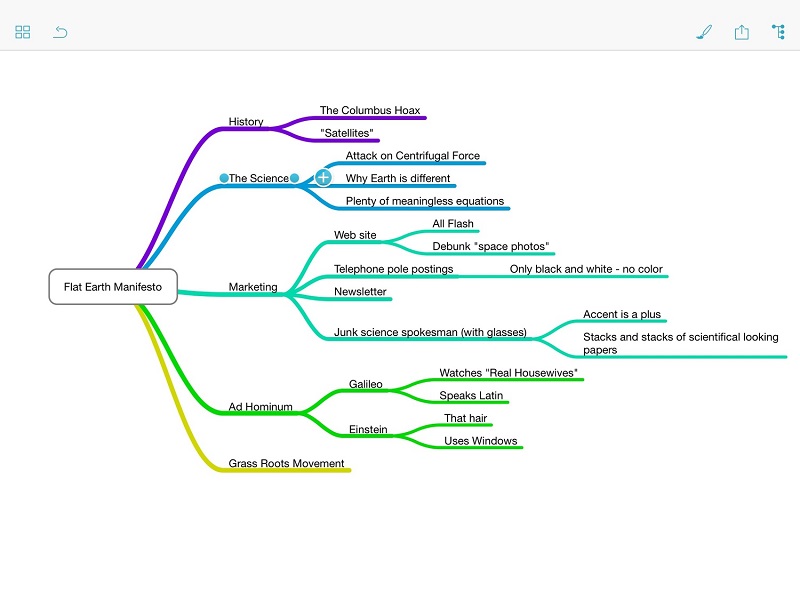 Based on the very principle of a mind map, MindNode is an app that allows you to create a visual diagram around a central idea. The tool enables you to "connect the dots" by bringing additional ideas closer to the central one, creating branches (or nodes).
Start with a simple "node," which can be anything from an idea to a person. You can then branch out with sub-nodes to create connections, and even create entirely new central nodes. The MindNode review on iPad is impressive with intuitive gesture controls and simplified filtering to organize your ideas freakishly well.
With visual representation and colors, you can generate and understand the bigger picture without putting your brain into overdrive. Although apps like iThoughts and DropMind work on the same basic principle, it is the visual elements and UI that set MindNote apart from the competition.
MindNode UI and Features
They say that an excellent user interface is the one that users don't need to be explained about. MindNode not only adheres to the laws of good app design, but the pleasantly simple user interface reflects a true essence of professional design. Ever since the overhaul with the iOS 7 update, MindNode offers more design-oriented features than most mind mapping apps.
You can start things by selecting one of several background elements, and then move over to the Themes tab. The default theme is "Delight," but feel free to experiment with other theme choices, or create a "Custom Theme." Apart from the groovy colors, you can also select your favorite typography to unleash your brain mapping capabilities.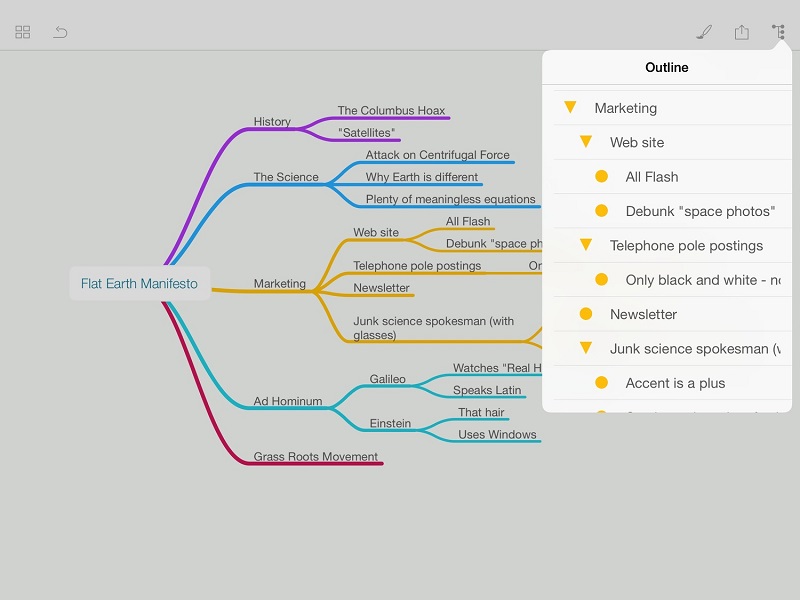 Outline – Certainly, a highlighting feature discovered during the MindNode review, is the Outline Mode on the top-right corner of the screen. Tap on the last button in the top menu bar to create an outline of the mind map. Outline mode creates a hierarchal order with triangles to hide or reveal a node, which streamlines the whole process.
Keyboard shortcuts keys – Taking a page out of iThoughts' playbook, MindNode has integrated keyboard shortcuts for quicker mind mapping. For instance, three carriage return presses enable a sibling node on the mind map, whereas three taps on the space button create a child node.
MindNode vs. Competition
MindNode has been the leading mind mapping tool for Mac users for a long time, but always second to the mighty iThoughts on iPad. However, MindNode has quickly caught up with the competition, making up in simplified UI for what it lacks in features.
iThoughts comes with all the tools a mastermind mapper needs to unleash their ideas on the blank canvas of the iPad. However, for a new user (or even a casual user), the abundance of features can be overwhelming. This is where MindNode seems like an alternative that is better equipped to accommodate new users and keeps things simple.
Coming to the price, iThoughts is available for purchase on the iTunes Store for $11.99, while MindNode is for $9.99. Despite being cheaper, the only significant difference that separates MindNode from the top competition like iThoughts is the beauty in its simplicity.
MindNode Review – The Final Verdict
Since mind mapping is a tested and proven method to enhance productivity, it seems appropriate that the best mind mapping apps are for the iPad. Among these apps, MindNode started as a regular player but now stands as the ultimate beginner's app to mind mapping.
Admittedly, you will always find more visual elements and features with competing apps like iThoughts. However, MindNode is built with a minimalist design and elegant UI, with just the right amount of features to give you all the tools you need. It is amongst the best free mind mapping software in the market. From the visual aesthetics and the functionality to the affordable price tag, MindNode barely leaves anything to be desired.