Here are the top 11 WordPress Testimonial Plugins for your website for testimonial and opinions of customers and viewers to built trust on your website.
Whether you are an independent blogger, a marketing freelancer or a business owner, scoring big with your clients needs more than just top-notch SEO and excellent services. The best way to make sure that the clients choose your products and services is by letting your prior customers be your brand ambassadors. With the best free and premium WordPress testimonial plugins, clients give their trustworthy opinion and help fellow buyers make the right decision.
Customer response is a powerful marketing tool, as it shows that your customer is not only satisfied with the product and the services you provide but eager enough to put out the right word as well. The best free and premium WordPress testimonial plugins will help you add positive custom feedbacks to your website and convince your prospective clients to go ahead.
Best WordPress Testimonial Plugins-Premium 
Distinctive Testimonials
Created by DinstinctiveThemes, this premium WordPress testimonial plugin is all about showing off how much your customers are satisfied with your products or services. With a user-friendly interface to get you started, the plugin comes with a fully responsive design, custom post types, unlimited scrolling, shortcode integration and several advanced settings for you to play around with.
Testimonials Showcase WordPress Plugin
One of the highest selling WordPress testimonial plugin, the Testimonials Showcase WordPress Plugin is packed with more features than your heart could desire. Equipped with ten different themes, Grid and Slider showcase, product review testimonials, testimonial submission form and several more impressive features make this fantastic tool stand out of the others.
AB Testimonial WordPress Plugin
Another popular choice for premium users, the AB testimonial WordPress Plugin is enriched with all the attributes that you need for creating engaging client testimonials. The plugin offers features such as jQuery Slider, simplified management interface, front-end AJAX testimonial submission, custom post type, multiple testimonials support, HTML5 validation and a lot more.
Testimonials WordPress Plugin
Showcasing what your clients have to say about you has never been more comfortable with the Testimonials WordPress Plugin. With the functionality to showcase testimonials in 4 unique ways, the plugin offers individual layouts for the content and thumbnail images, front-end testimonial submission and several other features help you stay at the top of your game.
Excited! – Testimonials Showcase for WordPress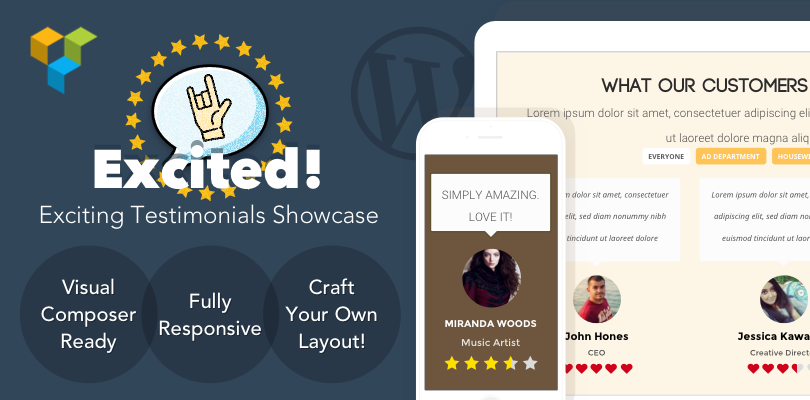 Built for personalization, the Excited WordPress testimonial plugin comes with the ability to create a personalized testimonial layout in no time. With several predefined and fully customizable layout options, the plugin offers a drag and drop admin builder, rating systems, fully responsive design, simplified shortcodes and complete customization support for the testimonials, so that you're always in control.
Best WordPress Testimonial Plugins-Free 
Easy Testimonials
Adding positive testimonials from your satisfied clients has never been more comfortable with the Easy Testimonials free WordPress plugin. With more than 80,000 active installs, the plugin can be integrated into your sidebar or to any area of your website in the form of a shortcode. While the plugin has been created for simplified working, the custom CSS enables you to add any design of your choice.
Testimonials Basic
The Testimonials Basic WordPress plugin is yet another tool that comes with straightforward functionality and user-friendly interface. The plugin enables you to add customizations to your testimonials by changing the font of the text, comes with Gravatars and a 5-star rating is available in multiple languages, and can be integrated into your website in the form of a widget or shortcode.
Kudobuzz Testimonial Widget
This free WordPress testimonial plugin is a modern-age social marketing tool that is popular and highly effective too. The plugin has been designed to automatically refine the social media networks of your choice for positive reviews and comments about your website, products or services. It showcases them on your website in the form of a fully customizable widget.
FP Testimonials
If you critically depend on the word of your previous clients to help you find new ones, the FP Testimonials plugin is the one you need. The plugin adds a custom slider to your website in the form of a widget or a sidebar, which helps you display the testimonials, helping it catch the eye of the visitors immediately.
Testimonials Widget
Considered one of the most versatile and user-friendly WordPress plugins, Testimonials Widget is packed with premium features. The simplified interface helps you add, edit and manage testimonials, add various details such as image, source URL, email and other elements to the testimonies, comes with CSS styling and multiple testimonial functionality.
Clean Testimonials
If you are looking for a sweet and simple free WordPress plugin to help you add attractive testimonials to your website, look no further than the Clean Testimonials plugin. Although the plugin appears essential, it comes with advanced features such as testimonial customization, thumbnail images, contact details and more.
Final Words
As it is in today's times, there is a lot of competition amongst websites and e-commerce platforms on the internet. If you are a new website or a newly established e-commerce business, it is essential to get positive testimonials from happy customers and satisfied readers to build a positive reputation for your website and brand. To get testimonials from customers, you must have a WordPress testimonial plugin. We hope our top picks for WordPress testimonial plugins will help users to give their opinion on your website.
Related Posts