Have you been looking for the right solution on how to fix downloading Error 905 on Google Playstore? As beautiful as it is to have the most extensive collection of mobile apps at your disposal, the Google Play Store can shoot up random errors from time to time. However, error 905 on Android is related explicitly to large app files and data-intensive games.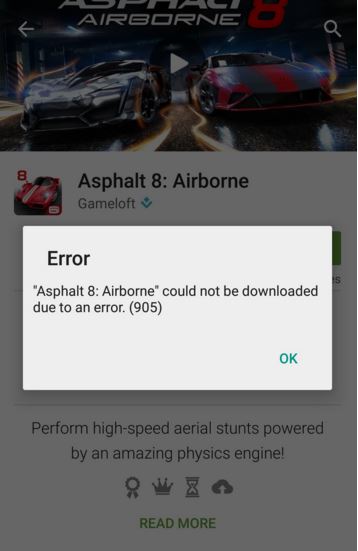 Error 905 is so common that Warner Bros Games has created a page on their website dedicated to the solution on how to fix error 905. Since most of their excellent games are gigantic, the error is quite common and often experienced by users. So here is a detailed and straightforward tutorial on fixing error 905 on Android.
Step 1: Open Settings and go to Apps
Error 905 on Google Playstore has been reported to be caused due to corrupt file data or failed update in the Google Play Store. A most promising solution for this error is to remove the latest updates installed for the Play Store app and install them again. 
Go to the Settings App on your Android device by pressing the gear-shaped icon in the notification window or the app drawer. In Settings, scroll down to find Apps and then search for Google Play Store. Depending on your Android version, the apps may appear under "App Manager" or "App Management." 
Step 2: Uninstall Google Play Store updates
Once you find it, click on the Google Play Store icon, which will give your App related details about the App. Click on "Uninstall updates" to revert the Google Play Store app to its original version.
Although not needed, you should also press the "Clear data" and "Clear cache" buttons as well. Doing this will help you on how to fix error 905 by removing any corrupt files that are left behind in the system. 
Step 3: Update to solve Error 905 on Google Playstore
Now that the Play Store app has reverted to its factory settings, it is time to update it to the latest version. The best part about this is that you don't have to download or install the updates manually since Google Play Services does it for you.
Just start by opening the Google Play Store app and wait for it to open up. Depending on your internet connection, the Play Store app will shortly update itself and finally fix error 905 along with it. Try downloading the App or the game that gave you error 905 earlier and confirm whether the issue is fixed or not.
If you're having trouble in following this guide on how to fix Error 905 on Google Playstore, here is a quick video tutorial for you: