Acer Aspire E5-573G review: The Acer Aspire E5-573G is one of the most compelling packages when it comes to mid-range gaming laptops.
With Ultrabooks, Convertibles 2-in-1 laptops and expensive Gaming laptops dominating over the laptop industry, finding a budget end gaming laptop that has the best of everything is not easy at all. Acer is known for its neutral stance in the computer industry, and a forerunner in the budget full-sized laptop category. The latest offering from Acer, the Aspire E5-573G brings the best of both worlds – powerful specifications on a budget and ample of firepower for a pleasant gaming experience.
Acer Aspire E5-573G: Design and Build Quality
Wholly similarly designed and looks in comparison to its predecessors and Acer laptops in general, The Aspire E5-573G is shelled in a sturdy yet premium plastic housing. The bezel and laptop lid have a smart a Charcoal Black colour and finely textured finish which gives it a gamer aesthetic, the bottom base tray is black. The casing is made of a nice matte plastic but could be more robust in terms of build quality.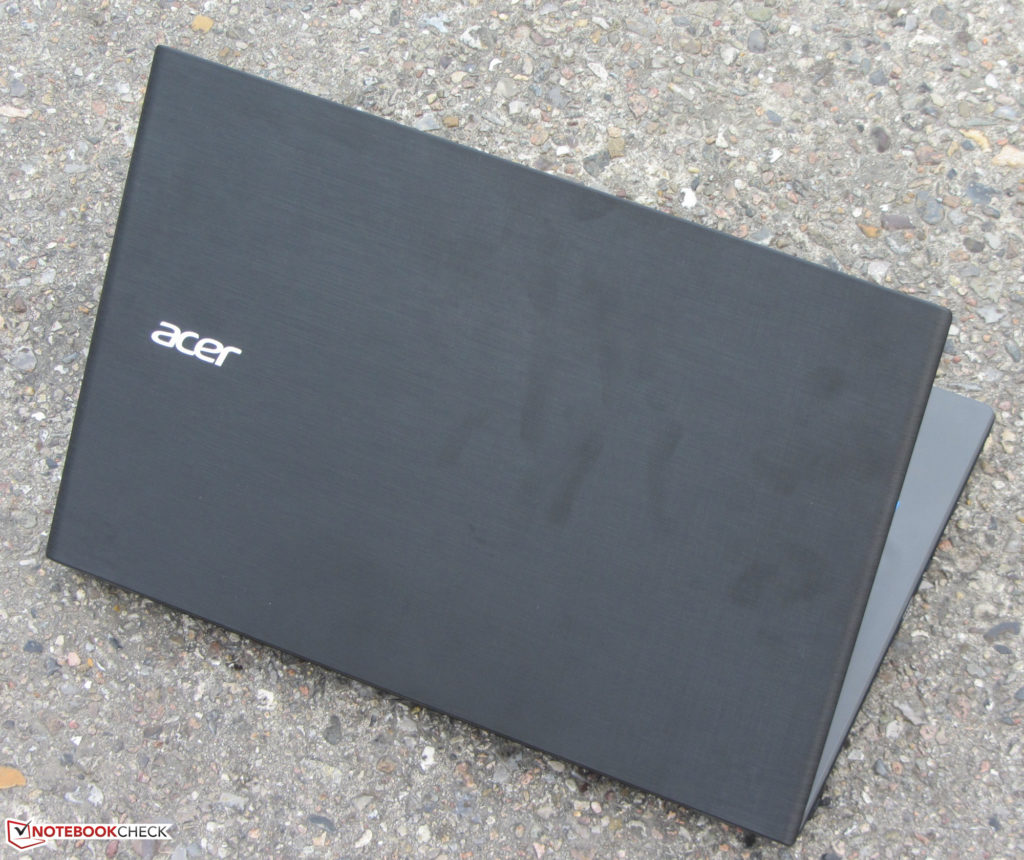 Considering that the Acer Aspire E5-573G is a budget gaming laptop with heightened specs, the laptop offers relatively sturdy build quality and satisfactory design features and aesthetics. The keyboard deck is large and well-spaced and provides plenty of room for palm rest and comfortable typing. Aspire E5-573G brings a full-sized keyboard with Numpad row and well-spaced keys for a good typing experience with good ket travel.
One key feature that the keyboard cluster misses out is on the backlight, which could be a deal-breaker for some gamers out there who are looking to have the most decked out RGB budget gaming laptop. The black keys blend and sort of merge into the dark-grey background of the keyboard deck, typing in usual and somewhat lit areas and conditions can also be a bit troublesome for non-touch typists. The multi-touch ClickPad of the Aspire measures an area of 4.2 x 3.1 inches, which gives is plenty of room for two-finger scrolling, pinch zoom and other gestures.
Acer Aspire E5-573G: Display
Clearing away from glossy finished displays that have become a norm among modern laptops, the Acer Aspire E5-573G offers a matte screen that measures up to 15.6 inches. Having a matte screen is far better than a glossy screen as it helps to lessen reflections. Packing a Full-HD display, Acer Aspire E5-573G has a display resolution of 1920 x 1080 pixels. The contrast ratio of the Acer Aspire E5-573G is 381:1 is lower than the standard 500:1 aspect ratio, along with brightness level of 230,7 cd/m², compared to the standard brightness level of 250 cd/m².
The viewing angles on the installed screen on the Acer Aspire E5-573G is at the mercy of its TN panel display, so the text on the screen becomes unreadable from certain angles, and it is not as crisp than looking at the screen straight forward.
The best viewing angle seems to be horizontal, one while the image quickly distorts when the viewing angle is changed to a vertical position. The only benefit of a TN panel screen in this scenario is that you can use the laptop outdoors without worrying about any annoying reflections and well also the cost-cutting measures to bring you a budget gaming laptop.
Acer Aspire E5-573G: Specifications
The Aspire E5-573G may be average in terms of design and styling and display too. Still, it in terms of hardware specifications as a budget laptop, it comes with the Intel Core i7-5500U processor that powers this beast of a laptop, Acer beats most of the other competition with this original hardware. With two RAM slots available, the Acer Aspire E5-573G comes with 8GB DDR3 RAM, which is user expandable up to 16GB of RAM.
Considering the "budget laptop" tag of the Acer Aspire E5-573G, it does not have an SSD storage option. Instead, they opted for the HDD storage. The 1TB HDD storage solution with 5400 revolutions per minute will give you plenty of storage space for your games and programmes, if not the quickest transfer speeds and boot time. The base clocked speed of the Intel Core i7-5500U processor clocks at 2.4 GHz and can boost clocked to 3.0 GHz (both cores), which should offer better performance.
Acer Aspire E5-573G: Gaming Setup
To partner the mid-range processor, Acer has equipped the Aspire E5-573G with a mid-range GPU, the NVIDIA GeForce 920M. With dedicated 2GB graphics memory, the GeForce graphics core works together in tandem with Intel HD Graphics 5500 integrated GPU to create a graphic switching option mechanism.
When the NVIDIA core is activated for performance-hungry tasks and gaming sessions, the Intel CPU handles the routine and daily tasks, which helps to conserves the battery longer significantly. The gaming experience on the Aspire E5-573G is pleasant on medium settings, but cannot handle the latest triple-A gaming titles such as the critically acclaimed The Witcher 3.
Pros:
Best pricing considering the hardware specs.
Sturdy and chunky design that should withstand dings, drops and rage key smashing on the keyboard deck.
Can play some decent latest game titles on medium settings.
Impressive and good battery life compared to other gaming laptops in its price bracket.
Cons:
No keyboard backlighting, not even a single whit backlighting.
Ordinary screen with limited viewing angles with the TN panel screen
Final Verdict
If you need a mid-range desktop replacement computer to handle your daily tasks and some gaming on the heavy processes and even a take your laptop to LAN parties!, the Acer Aspire E5-573G is highly recommended. The reasons are you would look into the Aspire E5-573G would be for the price range, but the decent Intel Core i7 processor, 8GB RAM and a lovable GeForce graphics card makes it one of the best among competitors.
The TN panel screen, with its lower contrast and brightness ratio, does take away some of the sparks; there is just too much good embedded within the Acer Aspire E5-573G to ignore it. With decent sound quality, optical drive and impressive battery life, Acer have brought in a power-packed budget gaming laptop in the form of Aspire R5-573G.
Why do you need a VPN on your device? Find here!
Related Posts.